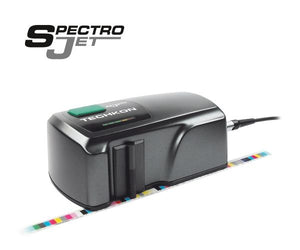 * FREE SHIPPING - UPS GROUND - WITHIN CONTINENTAL USA *
Scan-Measurement Device
Techkon SpectroJet
SpectroJet is a "spectrophotometer on wheels" which automatically measures the densities and color values of process- and spot-colors and simultaneously transfers the measurement data to a PC within seconds. 

It revolutionizes automatic measurement on any color control bar for any printing process. The device is simply guided by hand along the color test patches. Tracking wheels on the bottom ensure a straight run. 

Simultaneously the accurate, spectral measurement data is sent to the PC where all relevant information for controlling the printing press is displayed.

SpectroJet is equipped with a high resolution spectral sensor element including a true physical, switchable polarizing filter which analyzes the color samples under standardized conditions meeting ISO and Gracol G7 requirements. The measurement data can be exported into other software applications that connect real-time to printing presses to enable a 'closed loop ' turn-key solution. One unique feature is its flexibility to be used with any press type or format. It is delivered as a complete turn-key system.

SpectroJet and the related PC-software ExPresso are practical utilities that adhere to standards as for example ISO 12647 and Gracol G7.
Cost: $13,650 - $16,550 based on your options & specifications.