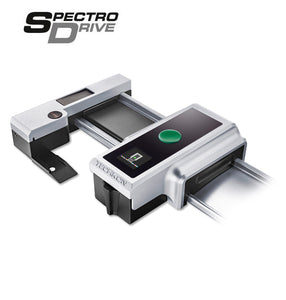 * FREE SHIPPING - UPS GROUND - WITHIN CONTINENTAL USA *
Scan-Measurement System SpectroDrive
Quality on the fast track
The new TECHKON SpectroDrive, with its automatic color and density measurement capabilities is the perfect solution to substantially increase press productivity by ensuring consistent print-to-print color accuracy throughout the press run.
The system consists of two components: The motorized measurement system scans the complete color bar on a printed sheet within seconds and simultaneously sends the spectral measurement data wirelessly to the PC where all relevant information for controlling the printing press is displayed. One unique feature of SpectroDrive is its flexibility to be used with any press type or format. TECHKON SpectroDrive is delivered as a complete turn-key system. 
SpectroDrive can be used as a scanning device as well as a hand-held instrument for single measurements. Just take the device from the horizontal track and position it wherever you want to take a color measurement. SpectroDrive now also features an integrated display that shows the measurement values of spot measurements directly at the device.

The Windows-software TECHKON ExPresso 4 offers a comprehensive tool-set comprising measurement of CMYK and spot colors, support of up to 16 print units, face and reverse printing, display of color density, dot gain, gray balance, L*a*b*-values and recommendations on how to adjust the ink on the press. This is only an excerpt of the complete functionality. Thanks to its modularity, TECHKON ExPresso is expandable and versatile. The measurement data can be exported into other software applications that connect real-time to printing presses to enable a "closed loop" turn-key solution.
Frequently Asked Questions
How much does it cost?
That will depend on the custom configuration needed. Pricing typically starts at $20,950 for the hardware only and can go up to $31,400 for the Pro Version. Contact Us to discuss your needs in more detail.
Which printing presses and printing format does the system support?
There is no limitation in type or size of printing presses.
Which print control strips can be used?
Any color bar will work. It may be necessary to edit the sequence of the measurement fields. This is a task which is easy to do and it has to be done only once.
What is the advantage of the TECHKON TCS print control strips?
The TCS print control strips have measurement patches for solid density in each ink zone. Additionally they supply all the necessary information for dot area 40 and 80 %, gray balance, ink trapping, slur and doubling.