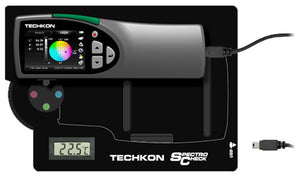 * FREE SHIPPING - UPS GROUND - WITHIN CONTINENTAL USA *

Ensure Your SpectroDens, SpectroJet or SpectroDrive is Always Calibrated
It is impossible to guarantee that an instrument will perform perfectly between re-certifications. Daily calibrations are an important, industry standard practice; but we can do even better!
Make sure your SpectroDens/SpectroJet/SpectroDrive measurements are always accurate until your next re-certification. With four built-in reference tiles (referenced to the Institute BAM), the SpectroCheck helps ensure that your devices are reading as per specifications and the digital color data is stored on an integrated USB flash memory stick. Printable report for QC programs.
Checking the color accuracy of SpectroDens is done by using SpectroDens Connect version 2.3 (or higher). Checking the color accuracy of SpectroDrive is done by using TECHKON ExPresso 3.2 (or higher). Both Windows software programs may be accessed from the integrated USB flash memory inside the SpectroCheck color reference, or downloaded free of charge from:
http://www.techkon.de/english/code/service/
SpectroCheck leads you step-by-step through the checking procedure and displays a report (which may be printed out) indicating if the measurement device conforms to the technical specifications.