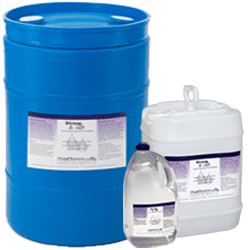 Are you looking for a drain-safe, fast-working, flexo press wash solution that melts the wet or dry ink off your ink trays, anilox rolls, ink pumps and flexo press parts? This is the press cleaner you have been looking for. This super-concentrated formula mixes excellent with water. Start at 1:1 mixing ratio for stubborn, dried ink, up to 4:1 or higher depending on your cleaning needs.
Strong & Safe Press Wash Cleaner performs well on all wet or dried water-based, solvent-based and UV inks. Quickly and easily perform color change-overs with Strong and Safe Press Wash Cleaner. Improve your pressroom efficiency today.
PRODUCT USES AND MIXING RATIOS 
Cleans and removes wet and freshly used ink from your Flexo press use 4:1 (or at 1:1 for stubborn dried ink), For ink change-overs and change-outs use 4:1, To clean ink pumps and recycle through system use 4:1.
Cleans and removes wet and dried water-based inks, UV cured inks, solvent-based inks, adhesives and coatings.
CHEMICAL ATTRIBUTES 
Water-based, water soluble formula, Appearance: clear liquid, Odor: minimal, pH concentrate=10.5, pH diluted 1:1=10.25, pH diluted 4:1=10, Total % VOC: 0%
CHEMICAL SAFETY 
Readily biodegradable, environmentally-friendly, pH stable, non-corrosive, non-toxic, non-combustible, non-fuming, not Sara 313 listed, non-flammable, no flashpoint, no fire hazard, 0-flammability rating, non-ozone depleting, and low-aquatic toxicity. Contains no chlorinated solvents, no petroleum distillates, no EPA Hazardous Air Pollutants (HAP), no carcinogens, and no marine pollutants. Product contains no ingredient that causes carcinogenic effects, mutagenic effects, teratogenic effects, or developmental toxicity. Passes plate compatibility testing. 
NFPA rating Health (NFPA): 1, Flammability: 0, Reactivity: 0.
HMIS rating Health(HMIS): 1, Flammability: 0, Reactivity: 0.
HS Tariff code: 2909.49.60.00