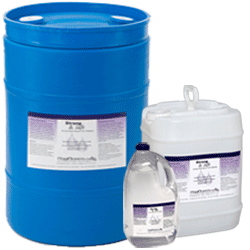 A low-VOC and fast-acting photopolymer plate cleaner that safely cleans all inks, coatings and varnishes from any type of photopolymer plate. One of our best-selling plate cleaners.  
Safe and solvent-free formula is guaranteed to never harm or swell any photopolymer printing plate.
Highly concentrated and cost effective; dilute 1:1 up to 4:1 and increase dilution as conditions allow.
Virtually odor-free formula is a pleasure to work with.
Environmentally friendly, biodegradable formula is safe for your employees and the environment.
Low VOC formula complies with Southern California's VOC regulations (Rule 1171) limiting VOC content to less than 100 grams per liter.
PRODUCT USES AND MIXING RATIOS
Use to safely remove water-based, UV and solvent-based inks as well as any adhesive, varnish or coating from any brand of photopolymer plate. Use 1:1 on old, stubborn inks, up to 4:1 or higher dilution as conditions allow.
CHEMICAL ATTRIBUTES
Water-based, water soluble formula, Appearance: clear liquid, Odor: minimal, pH concentrate 10.78, pH diluted 1:1=10.62, pH diluted 4:1=10.5, Total % VOC: 0%
CHEMICAL SAFETY
Readily biodegradable, environmentally-friendly, pH stable, non-corrosive, non-toxic, non-combustible, non-fuming, not Sara 313 listed, non-flammable, no flashpoint, no fire hazard, 0-flammability rating, non-ozone depleting and low-aquatic toxicity. Contains no chlorinated solvents, no petroleum distillates, no EPA Hazardous Air Pollutants (HAP), no carcinogens and no marine pollutants. Product contains no ingredient that causes carcinogenic effects, mutagenic effects, teratogenic effects or developmental toxicity. Passes plate compatibility testing.
NFPA rating Health (NFPA): 1, Flammability: 0, Reactivity: 0.
HMIS rating Health(HMIS): 1, Flammability: 0, Reactivity: 0.
HS Tariff code: 2909.49.60.00