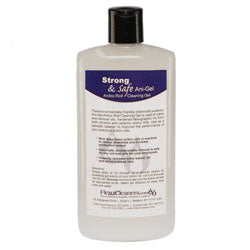 Discover what hundreds of press operators hail as the "best periodic Anilox Cleaner and Flexo Ink Remover" they have ever used.
A powerful, yet safe, anilox cleaning gel for your most stubborn water-based inks. This will clean the anilox roll that others can't! 
Performs best as a daily or deep-cleaning periodic anilox cleaner, on-press or out-of-machine.
Gel performs great while anilox rolls are in-machine. No mess and save time by not having to remove your anilox rolls.
Easy to apply and scrub onto anilox roll, gel clings to roll.
Use as a deep-cleaning periodic cleaner.
Contains microbeads which assist in the scrubbing action thus restores any anilox roll to maximum cell volume.
Safe to use on both ceramic and chrome anilox rolls.
Residue-free formula, leaves no haze or residue on any type of anilox roll.
Are stubborn, dried-on water-based inks clogging the cells in your all-important anilox rolls? Try FlexoCleaner's best performing, premium gel cleaner. The superior Strong & Safe PLUS is highly concentrated with a powerful blend of safe solvents and active soaps. It removes every ink, every time. It performs when other anilox cleaning paste and gels can't. This product is the new industry leader in water-based ink removal.
Use this product periodically and when all else fails. See the fast results as it effortlessly dissolves the most stubborn water-based inks away in seconds. Simply apply gel at 100% concentrated form, let it sit and soak into the roll, then gently rub it on the roll then rinse away with water or solvent. Watch the old, dried ink melt away. Use in tandem with liquid Strong and Safe PLUS Anilox Roll and Ink Cleaner to achieve best results.