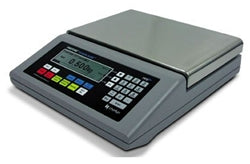 PANTONE Formula 3+ Ink Scale - Two Models - Weighs up to 10 lbs/5 kg or  20 lbs/10 kg
The NEW PANTONE Formula Scale 3+ has all the features of the standard PANTONE Formula Scale 3 - PLUS:
* Stores up to 100 Custom Formulas
* High Resolution Mode for difficult mixes
* Single key 'Recalculation' feature

Like the standard Pantone Formula 3 ink scale, the 3+ model comes programmed with ALL the formulas contained in the standard PANTONE Formula Guide (including metallics & fluorescents), and the latest colors in both the PANTONE Metallic Formula Guide and the PANTONE Pastel Formula Guide. Also programmed with the PANTONE Goe™System Color Range.

Can be used to mix up ANY PANTONE solid color.

NEW FEATURES:
With this new model, you can store up to 100 of your own custom colors. Do you have a special color for an important customer? Now you can save it in the scale memory and you will know that you can easily mix the exact formula again and again!  The Custom Formulas can be derived from known PANTONE Colors by editing, or entered from new data. When saved, they can be named for easy reference.

We all know that some formulas are more critical than others, perhaps with a small amount of PANTONE Black, or other sensitive component, which will need to be added accurately to get a good match. So the NEW PANTONE Formula Scale 3+ has a x10 'High Resolution' weighing mode. If you need to use it because one or more of the components of a mix is very small, the Scale will prompt you. It will also allow you to make very small mixes when needed.

All of the current PANTONE Formula Scales offer a facility to 'Recalculate' the components of a mix if you accidentally add too much of a component, and can't remove it from the mix. This model simplifies the operation by providing the 'Recalculate' function on a separate key.
Availability:  2 Week Lead Time