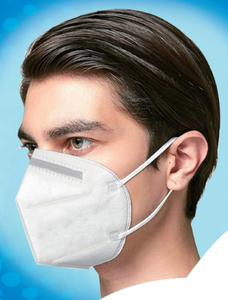 Sold in packs of 50.
These KN95 masks are rated by the CDC (Center for Disease Control) as suitable replacements for the now-scarce N95 facemask. Like the N95 masks, they block up to 95% of particles 0.3 microns and larger, drastically reducing air pollution and airborne particulate inhalation as well as keeping your breath/sneeze/cough from reaching others.

Equipped with a piece of steel on the bridge of the nose ***, it can be adjusted easily to fit the face improving the important "seal".


Bacterial filtration efficiency (BFE) ≥95%

Two soft ear straps comfortably keep the mask securely in place

Breathable

Light and comfortable fit

One size fits most

Disposable

*** In some masks the steel nose piece is sewn into the fabric