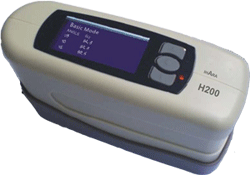 Ihara H200 60-degree Gloss Meter
60-degree measuring angle.
 
Bluetooth enabled with removable memory card.
 
Ergonomic, easy-to-use design.
 
Operation panel can be viewed in English or Chinese.
 
3-angle gloss data is displayed simultaneously.
 
Software is included for analysis & reporting of data.
Includes: Device, metal case, software for data analysis, USB cable, AC adapter
AA rechargeable batteries NOT included.