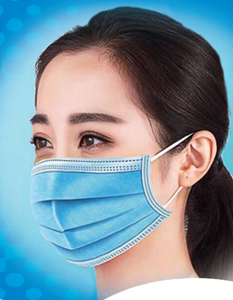 Make sure your employees are protected with these disposable 3-layered surgical-style face masks. 
Packaged in boxes of 50 masks per box. Price shown is for 1 box.
MINIMUM ORDER QUANTITY = 5 BOXES
Designed to be the perfect solution for use in environments where the need for protection against transmission of unwanted particles is required. 
Outer layer is water-resistant hydrophobic spun-bonded non-woven cloth
Middle layer is medical grade melt-blown filtration cloth
Inner layer is made of a skin-friendly hydrophilic spun-bonded cloth
This Face Mask is effective at blocking micro bacterial dust and helps to absorb moisture from breath and perspiration.
Bacterial filtration efficiency (BFE) ≥95%
3-Layer Filtration that offers a safety guard of comfort and breathability
Skin friendly fabric & ear bands
Standards: FDA, CE, ISO, GB/T326110-2016, ASTM Level 1
Single use/Non-Sterile
*Not for use by medical professionals. Can be used in non-medical workplaces for personal protection of employees and customers.*