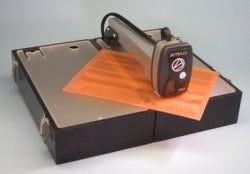 BETAFLEX PRO Flexo Plate Analyzer for HD Flexo & Stochastic Screening
3D DOT STRUCTURE IMAGING - Shows a dimensional profile of individual dots for HD Flexo
 2D DOT ANALYSIS to 1% at 200 LPI and better
The Problem:  
Process variability and inconsistent results = wasted time and material
 The Solution: 
The BetaFlex PRO system simplifies process control through a familiar interface, offering unparalleled accuracy and insight.
The Benefits:
Detect process variation BEFORE expensive errors propagate through the system.  Automatic data collection, plotting, and statistical analysis keeps the operator informed and the process on target.
HD Flexo, stochastic screening, and all the most sophisticated prepress techniques can be measured and controlled with ease and accuracy.
Revolutionary 3D imaging and DOT STRUCTURE Mode add togographical visualization to the conventional dot area halftone measurements.  Dot height, diameter, slope and more are visualized and automatically measured at 22,000PPI. Surface enhancement techniques are easily seen and quantified.
Color Separation Analysis from Printed Halftones
Essential for Dot Area Analysis for printing without targets, such as pharmaceutical, cosmetic or any printing where there is no trim area for targets.
Separated and analyzed for true halftone dot area analysis & correction.  Good for gray balance control.
The new high resolution system is portable and easy to use. Operating in TRANSMISSION mode at 14,000 PPI, it quickly and accurately measures all types of transparent flexo plates, digital ablation masks, and halftone films. The new Mask Stain Density function eliminates the need to carry an old fashioned film densitometer to verify laser energy, focus, and beam adjustments.
In PRINT mode color separation imaging of offset plates and color prints on film and paper measures Dot Area, Screen Ruling, Edge Factor and more.Data and images are easily captured and printed with the integral report generator and statistical analyzer.