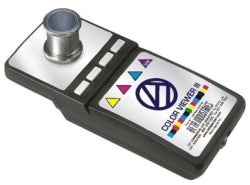 The BETA Color Viewer III brings revolutionary functionality to the world's most popular color inspection visual tool. Building on the success of over 18,000 Color Proofing Viewers, Model I & Model II, in worldwide use, the all-new Color Viewer III provides a host of new features and greater benefits to the commercial printer, converter and prepress operator.
FREE UPS GROUND shipping within the contiguous US!
Time lost in setting register, achieving color and diagnosing print quality problems wastes materials and destroys profits. Anything that shortens the make-ready cycle has a positive effect on the productivity and profitability of the operation.
New Features:
- Color-Coded Push Buttons for white light inspection
- Red, Green and Blue Channels for enhancing all colors
- UV Channel checks for fluorescence and metamerism in ink and paper
- High Efficiency LEDs make possible weeks and even months of effortless viewing between charging.
  No more tungsten filament burn out!
Avoids Mismatches and Costly Rejects!
Various optics available with magnetic snap-on lens plates for rapid interchangeability with no refocusing! 12X WIDE VIEW now available.