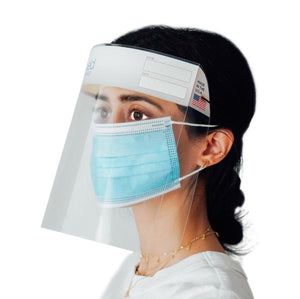 Sold in packs of 25

Designed to be comfortably worn for long periods of time, the AcuShield can be worn wherever you go. Whether you're going shopping, to work, or using public transportation, you can wear this virtually anywhere!
This Face Protector is made with the same quality and standards trusted by medical centers and hospitals across the country. It provides a physical barrier to mitigate contact with airborne droplets, sneezes, coughs, accidental chemical splashes and inadvertent hand-to-face contact. These face shields are perfect for areas where higher protection might be required, such as hospitals, airplanes, busy stores, big crowds, etc. The Face Protector comes with an anti-fog coating on both the inside and outside, providing clear, direct and peripheral vision in all weather conditions.

Maximum Protection: The full-face design provides complete coverage including the sides of the face preventing contact with eyes, mouth, and nose. This keeps a physical barrier between you and airborne droplets.


Optically Clear 007 recyclable A-PET Polyester Plastic
Only contacts the forehead with soft & flexible foam
Conforms to many head shapes – Extremely comfortable!
Anti-Fog coating
Product is disposable and not meant to be re-used continuously, however it can be washed