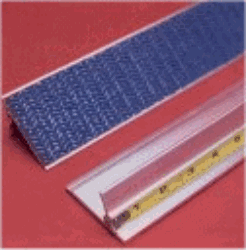 DISCONTINUED PRODUCT - We recommend the newer, improved version, the Ultra Safety Ruler. Email us for pricing and to order - the new order page should be active within 24 hours.
Provides an extra margin of safety during hand-trimming operations.
Safety during hand-trimming operations
The Safety Ruler is a combination of a straight-edge and ruler. A curved aluminum guard prevents your knife from accidentally cutting your fingers. Space age technology produces a laser-straight cutting edge. Ideal for sign making and large format digital imaging.
Hardened stainless steel cutting face for durability
Extra-wide 2.6 inch ruler gives a generous 2 inch comfort grip
Hand easily fits inside the gently curved finger guard
Non-slip rubber gripper material on back side
Unique transparent sliding marker moves along the ruler scale
Steel measuring scale extends out to measure objects longer than the ruler
Scale is solvent-proof and graduated in 1/16 inch increments
Built-in handle for easy pick-up