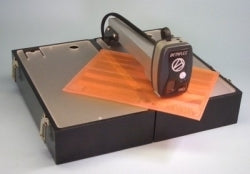 Betaflex XPRESS
Measures HD & Stochastic Screening like the Betaflex PRO!
How does it differ from the Betaflex PRO?
The Betaflex XPRESS does not measure in 3D and it operates in transmission mode only at 14,000 PPI.  
The Betaflex PRO operates at 22,000 PPI and adds reflection mode to measure in 3D. 
The new Betaflex Xpress system operates at the highest resolution to provide the most accurate and consistent measurements. HD Flexo, stochastic screening, and all the most sophisticated prepress techniques can be measured and controlled with ease and accuracy.

The new high resolution system is portable and easy to use. Operating in transmission mode at 14,000 PPI, it quickly and accurately measures all types of transparent flexo plates, digital ablation masks, and halftone films. The new Mask Stain Density function eliminates the need to carry an old fashioned film densitometer to verify laser energy, focus, and beam adjustments. Data and images are easily captured and printed with the integral report generator and statistical analyzer.

The new automatic 4 point calibration system eliminates the need to make multiple manual measurements. The Calibration Target and software system maintains a database of instrument status to satisfy the most stringent ISO registration requirements. All of this is combined with the high precision, ease of use, and Beta product support that has made Betaflex the standard for Flexo Quality Control.
Measures flexo plates, films, and digital masks
Automatic 4 point calibration system with ISO-compliant target 
Mask Stain density function for laser ablation setup
Image Overlay and Comparison function