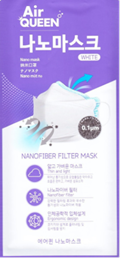 The Air Queen nanofiber filter face mask provides strong protection with high filtration efficiency and breathability.  Manufactured in South Korea.
SOLD IN PACKAGES OF 25 INDIVIDUALLY WRAPPED MASKS
PRICE SHOWN IS FOR (1) PACKAGE of 25 MASKS 
Ergonomically designed for perfect fit and comfort
Easy, no-fog breathing
Proven high-quality pathogen barrier
Secure-fit, enhanced durability
Paper-light, all-day comfort
Individually wrapped for sterility
Note: The date printed on the package is the manufactured date, NOT an expiration date.