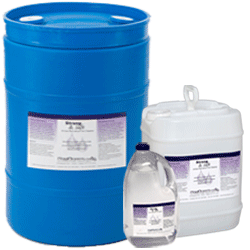 Looking for the best all-around anilox cleaner this industry has ever known? Need an anilox cleaner to come in and do the job that others anilox cleaners can't? Try FlexoCleaners' Strong & Safe Anilox Roll Cleaner. This super-concentrated, safe solution is packed with a blend of active, modern, environmentally-friendly cleaners. This chemical-rich concentrated formula is loaded with ink-attacking cleaner, safe solvents and powerful soaps.
Mix at 1:1 with water for old, stubborn ink or as a periodic cleaner. For daily cleaning, mix 4:1 or higher dilution with water as conditions allow. Performs very well in any ultrasonic cleaning tank or soak system. Effective and safe on both ceramic and chrome anilox rolls. Use to remove ink from any anilox roll and as a general purpose cleaner. Try this best-performing product today!
PRODUCT USES AND MIXING RATIOS
Use for in-press or off-press daily or periodic cleaning of any chrome or ceramic anilox roll. Start at full strength or 1:1 mixing ratio (1 gal. water to 1 gal. cleaner) for old, stubborn ink up to 4:1 (4 gal. water to 1 gal. cleaner) or a higher dilution as conditions allow. Spray or pour on any type of anilox roll, scrub with appropriate brush, then rinse off with water.
For use in an ultrasonic or soak tank anilox roll cleaning system, start at 1:1 to 4:1 or a higher dilution as conditions allow. For use as removing all inks as a general purpose cleaner, or for use on floors, countertops, stainless steel and other hard surfaces, start at full strength to 4:1 ratio and higher dilution as conditions allow.
For a complete mixing ratio chart please visit Mixing Ratio Calculator 
Cleans wet and dried water-based inks, UV cured inks, solvent-based inks and adhesives, coatings and varnishes from any chrome or ceramic anilox roll and virtually any surface as a general purpose ink remover/cleaner.
CHEMICAL ATTRIBUTES
Water-based, water soluble formula, Appearance: clear liquid, Odor: minimal, pH concentrate=10.75, pH diluted 1:1=10.66, pH diluted 4:1=10.5, Total % VOC: 0.3%
CHEMICAL SAFETY
Readily biodegradable, environmentally-friendly, pH stable, non-corrosive, non-toxic, non-combustible, non-fuming, not Sara 313 listed, non-flammable, no flashpoint, no fire hazard, 0-flammability rating, non-ozone depleting, and low-aquatic toxicity. Contains no chlorinated solvents, no petroleum distillates, no EPA Hazardous Air Pollutants (HAP), no carcinogens, and no marine pollutants. Product contains no ingredient that causes carcinogenic effects, mutagenic effects, teratogenic effects, or developmental toxicity. Passes plate compatibility testing.
NFPA rating Health (NFPA): 1, Flammability: 0, Reactivity: 0. 
HMIS rating Health(HMIS): 1, Flammability: 0, Reactivity: 0.
HS Tariff code: 2909.49.60.00