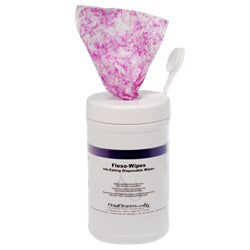 The first and only disposable wipe designed to clean any anilox roll and remove flexographic ink from any surface easily and effectively.
Lint-free, ink-eating disposable wipes used for cleaning anilox rolls, rollers, press parts, and even photopolymer plates. Try these convenient wipes on any ink, any press or pressroom location.
Simply wipe the surface, watch the ink disappear from the surface into the wipe, then discard. Each ready-to-use wipe contains a safe and biodegradable solution that evaporates over time, so the wipe can be disposed of in the general trash when finished. 

SOLD IN PACK OF 2 TUBS OR CASE OF 6 TUBS
PRODUCT USES & MIXING RATIOS
Cleans and removes water-based inks, UV cured inks, solvent-based inks, adhesives, coatings and varnishes from any surface. This iIncludes any anilox rolls, photopolymer plates, press equipment/parts, workbench, floors, or walls.


CHEMICAL ATTRIBUTES
Lint-free, double-sided disposable wipes with virtually no odor. Measures 9.5 inches x 12 inches or 24 x 30 cm. One side is coarse for heavy scrubbing and other side is fine for gentle scrubbing. pH of chemical saturated in cloth: 10.12, Total % VOC: .3%


CHEMICAL SAFETY
Chemical on the wipe is readily biodegradable, environmentally-friendly, pH stable, non-corrosive, non-toxic, non-combustible, non-fuming, not Sara 313 listed, non-flammable, no flashpoint, no fire hazard, 0-flammability rating, non-ozone depleting and low-aquatic toxicity. Contains no chlorinated solvents, no petroleum distillates, no EPA Hazardous Air Pollutants (HAP), no carcinogens and no marine pollutants. Product contains no ingredient that causes carcinogenic effects, mutagenic effects, teratogenic effects or developmental toxicity. Passes plate compatibility testing.

NFPA rating Health (NFPA): 1, Flammability: 0, Reactivity: 0.
HMIS rating Health(HMIS): 1, Flammability: 0, Reactivity: 0.
HS Tariff code: 4818.20.00.00