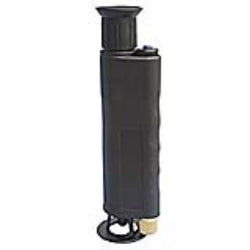 Rugged enough for daily use
Lightweight and safe
Lamp life of over 100,000 hours
Focus is easy and precise
Available in both 200X and 400X
3 "AAA" Batteries included
Handheld 1.1 lb weight
1-year warranty
Recommended by Frank: This is a great microscope for anilox roll surface inspection! I use it in the field, and I wouldn't be without it.  This is a must-have item for every flexo pressroom.
Because the built-in long-life light source is coaxial to the viewing axis, you get an incredible view of the cell walls, cell posts, and cell bottoms.  You can really see any ink at the bottom of the cells!
When inspecting an anilox roll's surface, I usually recommend multiple levels of inspection:
Operators communicate any abnormal anilox roll performance during or immediately following a run.
Off-line inspection of print by third party, such as QC, specifically with the anilox condition in mind
A visual inspection at arms length
Magnification at about 30X
Magnification at about 400X
For greater flexibility, or depending on what you specialize in, you may also want either a 200X or 400X scope.  If you only have one, I'd make it the 400X.