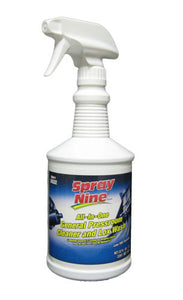 This all-purpose biodegradable cleaner has been formulated specifically for the printing industry - gravure, flexo, digital, litho. General Pressroom Cleaner dissolves ink on contact and is ideal for cleaning and de-greasing most hard surfaces including: vinyl, rubber, metal, porcelain, fiberglass and plastic in the pre-press, pressroom and bindery departments. Pricing shown is for a full case, (12) quart bottles.
You'll love the way it clings to surfaces - no drippy mess to deal with!
USE ON:
Pressroom equipment, photopolymer and rubber plates, rollers, ink trays and dispensing systems, floors and walls, vinyl, rubber, plastic and painted metal.
Water-based VOC compliant formula. No petroleum additives.
Price shown is for FULL CASE. Sold in full cases only - (12) 1 quart bottles